Chelmsford Teaching Schools Alliance in partnership with Essex Music Services and London Music Masters. Funded by the Paul Hamlyn Foundation Teacher Development Fund
24/10/2019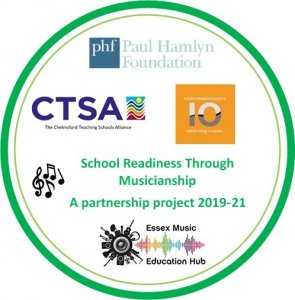 Targeting school readiness through musicianship
The Chelmsford Teaching Schools Alliance is delighted that we have been successful in our application to the Paul Hamlyn Teacher Development Fund for 2 years of funding to support us in developing the use of music to improve school 'readiness' by targeting improvement in PSED and CLD in the Early Years. The project is in partnership with Essex Music Services and London Music Masters (a charitable trust with Essex connections). 
The purpose of the Teacher Development Fund is to support delivery of effective arts-based teaching and learning opportunities in the primary classroom, and to embed learning through the arts in the curriculum. It aims to do this through supporting teachers and school leaders to develop the necessary skills, knowledge, confidence and experience.
The EYFS framework forms the basis of a child's learning throughout their primary school career. Schools are increasingly reporting that children are starting school without the skills necessary to thrive and learn.
There is significant and growing evidence suggesting that engagement in music can positively impact on a child's personal, social, emotional and intellectual development. Engagement in music, therefore, provides a vehicle through which a child's readiness to learn in a social school setting might be addressed.
This project will focus on the development of the EYFS framework Prime areas of Learning and Development: Personal, Social & Emotional Development and Communication and Language Development with additional benefits in Expressive Arts & Design. It will also develop teacher skills in using music to develop key skills such as self-confidence, collaboration, turn taking, listening and attention as a foundation on which to build successful learning throughout the curriculum.
Championed by senior leaders within the school, this approach will embed musicianship across the EYFS curriculum with close side by side partner work from music practitioners. The second year will extend approach into KS1 to demonstrate methods to deliver the wider KS1 curriculum using musical approaches making it a more engaging and memorable way of learning.
Updates on findings from the research project will be published throughout the project so watch this space! #schoolreadiness #education #learnthroughmusic